Augmented Reality
Augmented reality has sounded similar to a wild innovative concept, but this technology actually has been around since years. It has become more seamless and robust with every passing decade, offering an amazing means of superimposing computers-generated images atop the user's view of realism, thus developing a complex view rooted both in virtual and real worlds. Although the augmented reality applications run the range from virtual showrooms and interactive map overlays to huge multiplayer kings of the hill title and the like, every piece of software sharpen in on smartphones GPS and camera's functionality to develop a more impressive experience. Augmented Reality, allowing a digitally improved view of the substantial world, creates infinite opportunities for businesses and organization.
Consider these Augmented Reality Facts
Tablet and Smartphone sales will boost up to nearly 1.2 billion in 2014 and will reach to 2 billion almost by 2015
New generation of smartphones will come with VoIP, GPS capability and social networking. In the year 2014, over 864 million smartphones have incorporated AR technology
A rising number of subscription to high speed networks – over 1 billion 3G subscriber globally
Mobile AR applications generated almost $300 million in revenues in 2013 and they are expected to make $5 billion by 2017
In the year 2014, approximately 30% of the mobile subscribers will make use of Augmented Reality once a week at least
Mobile Augmented Reality apps will be downloaded over 2.5 billion time by the year 2017
The users are 135 percent more likely to purchase when viewing AR version of any product vs. looking physically at a product photo
Augmented Reality has positive impacts on value perception; the participants of a latest survey valued Augmented Reality products 33 percent higher than the non-AR items
What Could Be Dome with AR Technology?
Provide continuous information regarding our surroundings: restaurants, places of interest, museum displays, houses for rent, and so on
Link up augmented reality and social media, providing the capability to update and share in real time
Create and geo-tag posts or notes virtually about a place
Apply AR in field of healthcare in order to fight PTSD and phobias
Produce sport equipments that display relevant information like heart rate, route, route, and speed
Play games pervasively, by expanding the gaming experiences to real world
At Fuel4Media, we understand all your needs and requirements. Equipped with the best mobile development credentials, our team can help you stay extremely competitive among lots of mobile applications on app stores in different categories.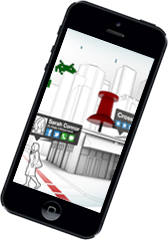 The Fuel4Media Advantage
Proven track record of success with mobile apps – our applications rank amongst the topmost on App Stores
Extremely experienced development team with skills across major mobile platforms – Windows, Android, and iOS
Flexible and cost effective pricing models
Very tight project starting and delivery schedule
Mobile application development, design, artwork, testing, and advertising under single roof.

Copyright 2019 - Fuel4Media Technologies Pvt. Ltd. - All Rights Reserved